Guest Post from Cruizinsuezin:


Here's a quick little slide show commercial with a great Marquee Farner behind Farner Marketeer/Spokeswoman Lynn.
http://www.flickr.com/photos/30366181@N05/sets/72157619214357961/show/

I can just imagine how many "takes" she took to finally eloquently enunciate "Mark Farner" and "Farmer's Market in Flint" in the same sentence! On camera no less! Add the fact that she had to say: August "fifteenth" too, and I think she's ready for a "cold one" from one of the sponsors foamy fountains. Good thing she didn't add the"Forty Year's Funkin'" quip! She may have hurt herself!

But, speaking of sameness, how easy is that to remember: "Farmer Farner at..." No wait, Mark Farmer (happens all the time) Mark Farner's Marketed at Flints Farmer's Market...yeah, that's the ticket! Oh, [Caution cheesy segway ahead] Somebody say ticket? Buy ticket's at Farmer's Market in Flint for Mark Farner's August 15 !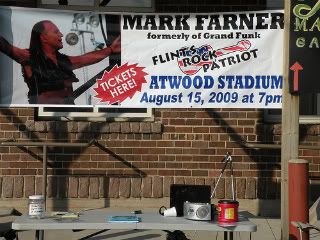 Now, this particular depiction of Mark is from the MT. Clemens, Michigan show where Mark Farner/N'rG held the stage and attending spectators as happy captives for a solid hour and a half. Two or three days earlier "the other guys"(you know, the two against one guys that hold the trade mark) had played the area and it was like Mark had set himself to prove something that day...and prove it he did that day and many times since! In the crowd, I saw a sign that read: "The Real Deal-Mark Farner" Nuff said. It was one of THE BEST Mark shows I had ever experienced! The description, "on fire" doesn't even cover it..."OF Fire" would be closer.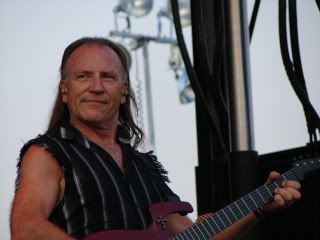 Mark Farner Fires Up the Fans

Anyway, the picture they picked for the banner is capturing Mark in Michigan. He is conducting the audience during the spiritually moving chorus of Mark's gift of song: "I'm Your Captain/Closer To Home"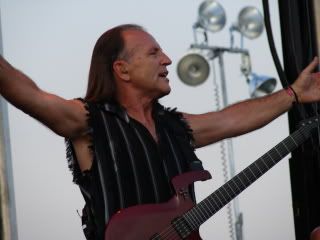 "I'm Getting Closer To My Home"




The audience sings back to Mark: "I'm Getting Closer To My Home"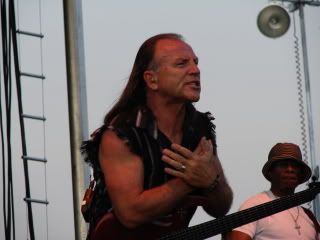 Mark receives you: "your the best"



This is destined to be a HOT time in Flint! Get your ticket's! Tell your friends!
Come Fan the Flames!
Don't forget...It's the "Forty Years Funkin'" Celebration and the fan club has had contests like members sending in their favorite Grand Funkin' story to have Mark draw entry's at random. The winning entry wins a personal phone call from him! Sign up and 'fess up today!

Special Thanks to T. Bankert for the Flint footage for this;



Buy Tickets in these Fine Flint establishments:

Blackstones Eatery; (810) 234-9011
Mike's Triple Grille; (810) 239-4444
Farmer's Market; (810) 232- 1399

Purchase tickets online and more: http://www.flintrevival.com/

~Suez