The Rock and Roll Hall of Fame committee has sent us another listless list of inductee's. And, no surprise, due to politics and swayed opinions, the name "Grand Funk Railroad" is bizarrely missing from the vote. Again and again, year after year, Grand Funk Railroad is missing from the list. But, let's not subscribe to all that nor the magazine Empire that makes the elite committee possible.


"It's better than being in the Rock and Roll Hall of Fame"


In mid-August, as I remember it, standing there off to the side of the red carpet. I heard Mayor Dayne Walling present Mark Farner with an impressive black plaque holding the key to Farner's first hometown of Flint, Michigan. Mark was visibly humbled and proud and had this to say to the film crews and fans there on the red bricks of Flinttown:
"It's better than being in the Rock and Roll Hall of Fame. To think that the people of my hometown think that much of me means a lot."
[See New's article]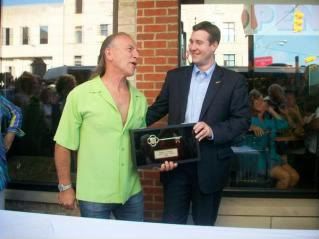 August 14, 2009 Mark Farner receives the Key to the city of Flint for his achievements in music.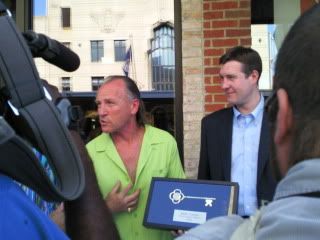 The little gold plaque Reads: "Mark Farner, Flint's Rock Patriot"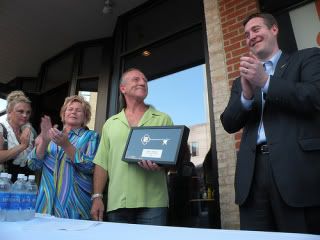 This dedication took place the day before the Atwood Stadium concert. After dinner the band went to do a night time sound check then, Mark did an awesome interview for Flint's own Kettering University radio station, WKUF 94.3
Find Mark with the Butcher Shop Brother's on the Pod Cast Player, Myspace:
http://www.myspace.com/butchershopshow

Mark shakes hands with Mayor Walling. To Mark's right is Flint's hostess with the Mostess, Lynn Sorenson, Flint Revival Committee.
Pics by;
Mary N & Sue T
Read more...