Wednesday, October 21, 2009
40 Years 'a Funkin' Merchandise!

Limited Edition Jackets
Orders welcomed through December[2009]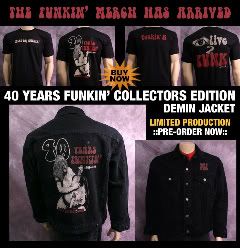 Read more...
Saturday, October 10, 2009
Mutual respect of musicianship had brought together two talented singer/song writers. Mark Farner of the Classic Hard Rock Original Grand Funk and the Screamo singing style of Craig Owens with Heavy Metal Chiodos. The highly anticipated result is a track titled "El Dorado" that didn't make it on Craig's solo effort when he decided to release only 7 songs on an EP instead of a full CD. Who knows maybe El'Dorado will land on a CD by another favored band...
Here is:

Craig Owens with Chiodos



Mark Farner with the Classic Original Grand Funk



Craig Owens talks about Mark Farner vocal prowess and the "El Dorado" track he collaborated on with him.



Craig Owens performing acoustic Solo El Dorado, Punk Rock Song and I Didn't Say I Was Powerful, I said I'm A Wizard


twitter.com/craigeryowens
https://twitter.com/farner9


Read more...
Posted by Farner9
at 12:33 PM
, 0 comments