The Henry Ford Museum in Dearborn, Michigan has a major draw for me this Summer! Rock Star's Guitar's! Well, Rock Star's Car's too but, for me, it will be surreal to stand in the presence of Mark Farner's magical Messenger. You know, the instrument the critics called "junk!"
The very guitar that Mark was allowed to make payment's on till the full purchase price of $200 was reached! [See Artist Interview for this story]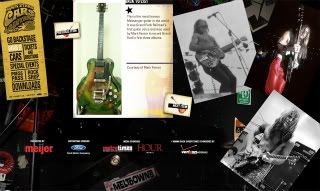 Another of Mark's great Gibson guitars will also be displayed at the museum. The very Gibson L5S that went on the "We're An American Band" tour!
For all the guitar aficionado's; the display of rock stars guitar's will run May 16TH September 2ND...See you there!